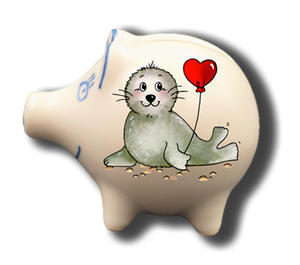 Material: ceramic
Size: approx. 8 cm, shrinkage due to production possible
Delivery time: 4-7 days
The name is written by hand on the raw body of the pig and fired at 1,100° degrees.
Afterwards, the other side of the piggy bank is provided with the desired motif and fired again. So that the piggy bank does not have to be smashed, there is a plastic opening plug on the underside.
If this plug gets lost, you can always get a replacement from us.
The name is burned in under the glaze and cannot be removed.
Each piggy bank is made especially for you (custom-made).
Please enter your desired name in the text field.
Product delivered similar to picture.