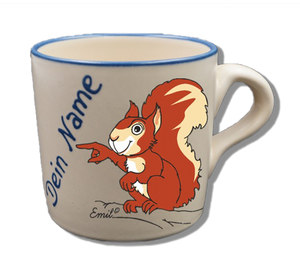 Capacity: 280ml
Height: 8 cm
Delivery time: 7 days
The name cup with the exclusive squirrel Emil.
You can have the cup inscribed with any name you wish.
The inscription is applied by hand to the raw cup. Afterwards it is fired at 1.100º degrees,with the motif and fired a second time.
The cup is made in our production in Germany and inscribed by hand. Special requests such as a left-handed cup or double inscription are therefore no problem.
The mug is suitable for the dishwasher and microwave.
Each mug is specially made after receipt of order. Therefore, each mug is a custom-made product.
Please enter your desired name in the text field.
Product delivered similar to picture.
The image rights are held by EAK AG.