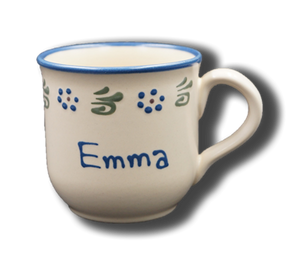 Delivery time: 3-7 days
Inhalt: 0,2l
Height: approx. 75 mm
Material: Ceramic
Dishwasher safe

As a gift or for you at home, in the office and at work.

Our popular name mug is painted and inscribed by hand in its raw state and then fired at 1,100º degrees.

The traditional decorations give the cup a rustic and cosy character.
Personalised with your desired name, the mug makes a great gift for family, friends and colleagues or for yourself as a new favourite mug at home or work.

This cup is microwave and dishwasher safe..
Each inscription is specially made after receipt of order. Therefore, each mug is a custom-made product. We make this mug by hand in our manufactory in Germany.