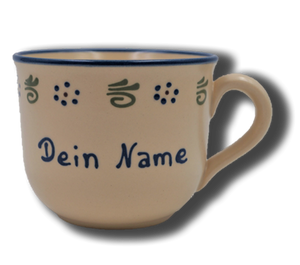 Capacity: 0,4l
Height: 7,5 cm
Material: ceramic
Delivery time: approx. 3-7 days
Ideal for tea drinkers or coffee drinkers who need a little more to wake up in the morning.
The cup holds a capacity of 0.4 l.
As a gift or for you at home, in the office and at work.
Our name mug is hand painted and inscribed in raw and then fired at 1,100º degrees.
This mug is microwave safe as well as dishwasher safe.
Each inscription is specially made after receipt of order. Therefore, each mug is custom made.
Please enter your desired name in the text box below.
Delivered product similar to the picture.