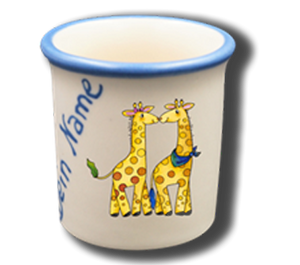 Content: 30ml
Height: 5 cm
Material: ceramic
Delivery time: 3-4 working days
In the morning for the breakfast egg, in the evening for the liquor free.
This mug can be used individually.
For the little ones with a cute motif, for the older personalized with name.
The name is written by hand on the raw cup. Then it is fired at 1,100° degrees, provided with the chosen motif and fired a second time.
The mug is dishwasher and microwave safe.
Each mug is specially made after receipt of order. Therefore, each mug is a custom design.
Please enter your desired name in the text box.
Delivered product similar to the picture.